Community Clinic Provides Affordable Healing for Everyone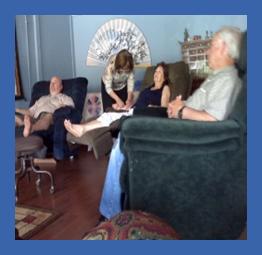 Most acupuncturists in North America treat patients on tables in individual rooms.  This is not traditional in Asia, where acupuncture is practiced in a community setting.  At Acupuncture Wellness Community Clinic we use multiple recliner chairs arranged in a large, quiet, soothing space.
We treat patients in groups making it easy for friends and family members to come for treatments together.  This treatment approach allows patients to form a community centered on healing and wellness.
Our Sliding Scale
At Acupuncture Wellness Community Clinic we believe health and wellness care should be affordable for everyone.  Acupuncture is a safe and gentle form of medicine.  Some conditions require multiple treatments to achieve maximum results.  Our clinic wants you to be able to afford to return as often as is needed for you to get better and stay better.
Fees are $30 to $50 per treatment.  You decide what you can afford.  There is also a one-time assessment/paper work fee of $15 on your initial visit.
Make an appointment by using the online appointment system link on the home page
---
"The Doctor of the future will give No Medicine, but will interest his patients in the care of the human frame, in diet, and in the cause and prevention of disease."
-Attributed to Thomas Alva Edison